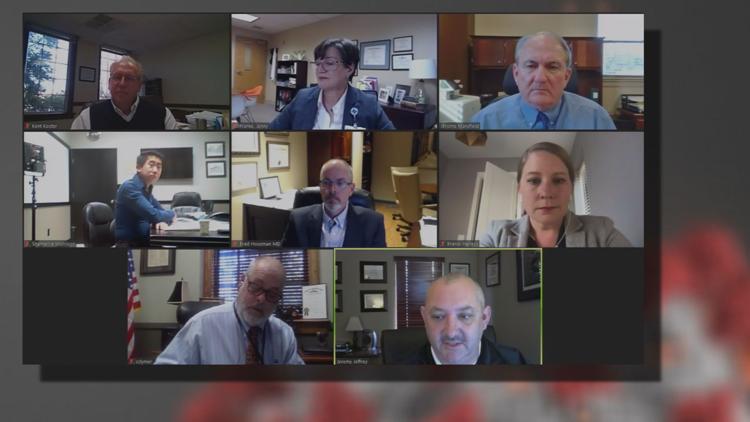 PADUCAH — A drastic rise in cases, and a steep increase in hospitalizations: McCracken County leaders stressed the importance of practicing safety precautions as they discussed the latest COVID-19 numbers Thursday.
Jerome Mansfield, director of the Paducah-McCracken County Office of Emergency Management, hosted a virtual news conference via Zoom Thursday afternoon to allow health care and government leaders to give updates on the pandemic. Speakers included Dr. Jenny Franke, chief clinical officer at Mercy Health - Lourdes Hospital; Dr. Brad Housman, chief medical officer of Baptist Health Paducah; Jeremy Jeffrey, executive director of Mercy Regional Emergency Medical Services; Kent Koster, director of the Purchase District Health Department; Paducah Mayor Brandi Harless and McCracken County Judge-Executive Craig Clymer.
Franke said in the past three months, the number of hospitalized COVID-19 patients has tripled. A third of those patients required critical are, and 75% of those patients needed to be on ventilators. Franke said for the past five or six days, Mercy Health-Lourdes Hospital has had roughly 32 to 38 patients each day.
Although it's unclear when it will get to a point where the hospital would run out of beds, Franke said the hospital's most limited resource is staff, because health care workers are becoming ill.
"Early in the pandemic, if there was a surge in New York, they could ask for traveling nurses from Arizona or Montana or Tennessee. Now we're seeing an increase in cases across the country. And even though we are asking for temporary help for traveling nurses, etc, they're just not available," Franke said.
Housman said he's been seeing similar numbers at Baptist Health Paducah. Over the last few weeks, the number of COVID-19 patients at the hospital at any given time has been hovering in the 30s. Housman added that Baptist Health shares information with Mercy-Health Lourdes Hospital daily, and urged the public to wear masks, practice social distancing, and practice good hand hygiene.
Koster said on Thursday there were 38 COVID-19 patients at Baptist Health Paducah and 38 at Mercy Health - Lourdes Hospital.
The spike in COVID-19 cases is also reflected in the experience of Mercy Regional EMS. Jeffrey said toward the beginning of the pandemic, they transported one to two patients a week or every other week. But in the last two months, Mercy Regional EMS has been transporting two to four patients a day, and as much as 10 a day at times. Jeffrey said his staff disinfects the ambulances after every call to ensure they are safe.
Koster said McCracken County as a whole has had a very substantial increase in COVID-19 cases within the last month. He said on Oct. 19, there had been a total of 898 cases since the start of the pandemic. But as of Thursday, the total reached 2,185 cases, a 221% increase. Koster said a month ago, there were 107 active cases. On Thursday, there were 857 active cases. A month ago, there were 13 total deaths since the beginning of the pandemic. On Thursday, the death toll reached 24.
Koster added that the high number of COVID-19 cases has overwhelmed the health department, to the point where staff cannot keep up with contact tracing. The health department is training additional individuals to accommodate the increase in cases. In the meantime, Koster said the health department will still contact new COVID-19 cases, then ask them to notify their family members, friends and coworkers who may have been exposed so they can self-quarantine for 14 days.
Harless thanked health care workers during the Thursday news conference, then reiterated the seriousness of the pandemic.
"Now's the time to put aside any doubt, and political question that you have, and to recognize that the leaders in your community are saying, 'This is a problem, and that we have got to respond to it,'" Harless said.
Harless added that the Paducah City Hall will be closed to the public effective at 5 p.m. Friday. It will reopen to the public on Dec. 14, based on Gov. Andy Beshear's executive order to mitigate the spread of the virus. Harless said the public can still reach city hall by calling 270-444-8800. She added that there is a dropbox outside city hall for property tax payments.
Clymer stressed the importance of wearing masks and taking other precautions as well. To illustrate his point, he likened the pandemic to a boxing match.
"We've been fighting this opponent for about five to six rounds now," said Clymer. "Now, we're dropping our guard. We're tired of wearing our mask and we're tired of our freedoms being restricted. We don't like being told by government we can't do things we want to do, and have to do things we don't want to do. And so we're getting pummeled. Final bell is down the road just a little bit. The vaccine's coming."
Until then, Clymer said the community needs to get its guard back up and take precautions.
"If we mask up, keep our distance like the boxer — guard up with the mask, the distance with social distancing — we can make it to that virus and we'll be alright," said Clymer.
Franke said when a vaccine does become available, she hopes there would be strong interest from the public.
"If we can get the majority of the people in our communities and our region vaccinated, the virus doesn't completely go away," said Franke. "But our ability to have businesses open, still be safe, have more freedoms than we have now, that increases. So the key to opening the economy is the vaccine."