FRANKFORT, KY — For the second day in a row, Gov. Andy Beshear has reported a record number of new COVID-19 cases across the commonwealth. 
Beshear reported 3,303 new cases Saturday evening, surpassing the 3,173 cases reported Friday. Saturday's cases include 419 teens and kids, Beshear said in a video message shared via social media. 
The state's positivity rate for COVID-19 test results increased as well, reaching 8.95% Saturday — up from Friday's 8.68%. Beshear said the fact that the positivity rate is nearly at 9% is "Not even close to OK." Across the commonwealth, 1,378 people are currently hospitalized with the illness caused by the novel coronavirus, including 308 in intensive care units and 167 on ventilators. 
According to the updated COVID-19 incidence rate map released Saturday by the Kentucky Department for Public Health, 101 of the state's 120 counties are in the red zone, meaning they have a critical rate of COVID-19 spread. In the Local 6 area, only Fulton County remains outside of the red zone, but it's in the orange zone, meaning the virus is spreading at an accelerated rate there. At 23.9 average daily cases per 100,000 people, Fulton County is just shy of the 25 average daily cases per 100,000 threshold that would put it in the red zone. 
The state has issued a list of recommendations for local governments, schools, businesses and individuals in red zone counties. Beshear stressed the importance of following those recommendations to avoid further spread of the virus and further restrictions to mitigate it. 
"Folks, if we don't grab a hold of those red county reduction recommendations, if we don't see those steps being done and ultimately see our numbers coming down, we're going to have no choice but to take additional steps as we move forward," Beshear said. "So please take this seriously. You are either a part of the solution fighting the good fight to help other people, or you're helping to spread this virus."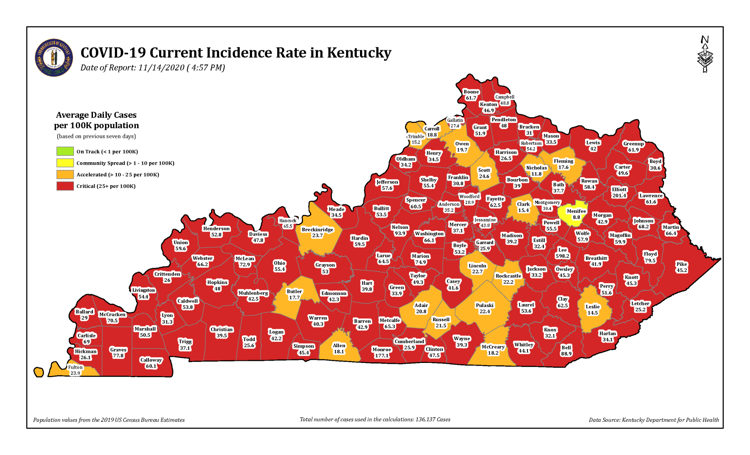 Beshear also reported 11 newly confirmed virus-related deaths, including a 90-year-old woman and 94-year-old man from Fayette County; a 72-year-old man and 93-year-old man from Jessamine County; a 70-year-old man from Kenton County; a 65-year-old man from Knott County; a 79-year-old woman from Lee County; a 69-year-old man from Lewis County; an 88-year-old man from McLean County; a 91-year-old woman from Perry County; and a 90-year-old woman from Wolfe County.
To date, Kentucky has had 136,137 total COVID-19 cases, including 122,914 lab confirmed cases and 23,223 probable cases. Of that total, 1,658 people have died. 
"There's so much suffering our there right now. If we're not careful, it's going to get even worse than this, which is almost unimaginable compared to where we were just months ago. So do your part. Chip in. Pull your weight as part of team Kentucky. Let's to better," Beshear said.